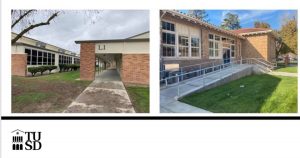 TURLOCK – Turlock and Pitman high schools recently went through modernization projects and the results were presented to the Turlock Unified School District Board of Trustees. Buildings at Turlock's East, B and L wings were completely renovated and the Pitman Child Nutrition Annex Building was built in the middle of campus. The results were presented at this week's TUSD board meeting for approval of the projects and change order summaries.
The Board of Trustees awarded the B, L, and East Wing Project to CT Brayton & Sons, Inc. in the amount of $5,604,996 which included a 5 percent contingency of $128,237. According to the Director of Maintenance and Operations Scott Richardson, there was an additional 3 percent contingency of $87,511.50 because they weren't sure what to expect when working on a building 50 years old. That turned out to be a wise decision, because small amounts of asbestos were found and dealt with. The project ended up coming under budget at $5,543,231.
All the exterior windows in the L and B wing were replaced with new tinted glass. All of the concrete in the hallway in front of the building was 100 percent replaced. There was a set of double doors added to the east hall of the East Wing hallway.
All 18 classrooms were renovated inside the East and B wings, as well as all of the bathrooms in the respective wings. All of the classrooms received new ceilings, lighting and fire alarms. The electricity was all updated as well. All rooms have smart boards and desks with whiteboards on them now.
"These buildings have not been renovated since the '50s when they were built," said Richardson. "They were not in compliance with access, wheelchairs and all that sort of stuff."
The Board of Trustees authorized awarding the Pitman High Child Nutrition Annex Building Project to the same CT Brayton & Sons, Inc. in the amount of $2,475,310.00 which included a 5 percent contingency. The final cost of the project was $2,453,828.00 to stay under budget as well.
"This facility came out of discussions after a couple of years of how to provide additional points of sale at Pitman High School to reduce the amount of student population in one area at the cafeteria, but also to speed up the lunch serving process," said Richardson.
The building sits at the middle of campus, just to the south of the girls locker room. The annex is home to the new Pride Rock Cafe which provides an additional food access location and a variety of ready-to-serve school meals.