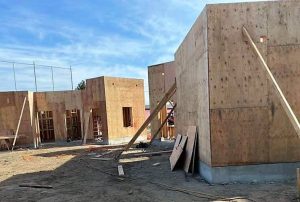 RIPON –
Work at Stouffer Field is starting to shape up.
The Ripon High Bathrooms/Bleachers Reconstruction Project recently included more work to the infrastructure – according to the Ripon Community Athletic Foundation, a pump system was just hooked up to the main sewer line – and concrete being poured for the walkway between the tennis courts and the JV baseball field.
RCAF got the ball rolling back in 2007 with a grass-roots effort towards updating aging football stadium on the RHS campus.
Since 2013, the group consisting of Vince and Stephanie Hobbs has installed $1.8 million in donated improvements while working in partnership with the Ripon Unified School District and others.
From the all-weather track to the home-side grandstand and press box, RCAF is thrilled to see the latest stages.
"We're excited about the quick progress (contractor) CT Brayton is making on this last phase of the Ripon High stadium project," said Stephanie Hobbs, who is optimistic of bathroom / bleacher project being completed in time for graduation.
CT Brayton & Sons were hired a few months ago to "not exceed $1.2 million" in handling the construction. The Escalon-based contractor is spearheading the efforts of building the bathrooms and ticket booths at the main entrance along with added infrastructure work.
"The bleachers should be installed in the first week of April," said Hobbs, who is especially grateful to RUSD officials for their collaboration in the final stage.
RCAF has since contacted the sod company that provided a generous discount for Stouffer Field during the early stages of renovations back in 2012.
"We want to install the same sod (to the playing surface) for ease of maintenance for the district and its proven hardiness," Hobbs said.
RCAF, in addition, thanked Pacific Irrigation and North American Farm Irrigation – or NORMAC – for donating the irrigation pipes and fittings.
"We're also looking for 12 large Bay Laurel trees that will flank the 14-foot-wide sidewalk leading from North Acacia Avenue to the ticket booth," Hobbs said.